Continuing from My Musical Timeline 1
College was the start of widening my musical interests. I was exposed to more music. It was the first time I listened and appreciated rap metal. This is the era of Slapshock, Chico Science, Greyhounz, Cheese and such. Take note I said Chico Science and not Chico Sci. I hate Chico Sci. They are gay.
This was marked by drinking and jamming weekends at the dorm with songs like Mottaka, Your Puppet and Clown, Sink or Swim, Soopafly and Agent Orange followed by an endless line of Slapshock songs. But the most notable for me is the incomparable and incredible Paris. That, for me, is what Chico Sci should be. Kamikazee also started out during this era. They did rap metal. Now they are just doing whats popular like Chico Sci. That makes them gay too. I mean c'mon compare Tinelas to whatever Kamikazee is singing now. And compare Paris to the vampire, hearts shit that Chico Sci is doing now.
Also, I remember a college friend saying that Jamir was bad in bed. Can anyone attest to that? This is kinda ironic since he is worshipped by high school girls.
Though I don't listen to much of the same music anymore, I am glad that most of these bands are still doing the same music. Cheese even changed their name to a more hardcore Queso. Leave for Chico Sci and Kamikazee who chose to follow whatever is popular. Some fans are masking this as a band's evolution. But not for me. They are gay.
Also, there was Paolo Santos. I liked his song selection. He covers really good songs. Though he really didn't do justice for some of the songs he covered, I still liked his music.
To be fair to Chic Sci, I liked their rendition of Magasin. Probably the best Magasin cover. Yes, better than Paolo Santos'. I like that better than what Lourd did to Alkohol. Also, I love the fact that they cover pop songs and have fun doing it on stage. Its just that the kind of songs they make today is a lot less satisfactory.
Filipino band music is also starting to make noise during this time too. But with pogi rock. I think the only pogi band I listened to was Hale. The endless parade of similar acts that followed seemed gay too. Like Cueshe, Shamrock, Spongecola and 6Cycle Mind. But too bad for Hale, I think they followed the Linkin Park syndrome, their first album was superb for me. The second one was ok. But that was it. Though when I listen to them now, Its good that I can still sense the essence of Hale music that made them famous. They didn't evolve like other bands that are gay.
But oh, Spongecola had one good song – their acoustic performance of Una. Take note – acoustic. The rock version sucks.
Bands of note were also Urbandub, Paramita and Imago. I love Aia. I love Idlip. Yes, I was listening to them before Akap. Akap was incredible too but I think Idlip was better. Her voice is just angelic. She has the face to match too.
A few acts that I don't see more often these days from this era were Dicta License and Shiela and the Insects. I thought they were really good. I wonder where they are now.
Oh, I almost forgot, POT! POT had a remastered album during this time. I was listening to them mostly during High School too. It was a waste that they had to break up.
During this time, I was introduced to one of the most important bands that I will ever listen to. At first I didn't like them. Their first video that I saw was full of animation. I didn't bother to watch it because I thought they were one of those bands who needed animation and computer graphics to sell their music but were essentially crap. Man, was I wrong.
It started when my roommate brought home a live gig of one of their shows. Then I realized how good they were. All their songs were incredible. I fucken love Incubus. Circles is my all time favorite Incubus song. I have been hooked onto Incubus since.
This also marked the time when I really expanded to more genre's. I got into more reggae, jazz and bossa. Though I don't know any popular or prominent jazz acts, I enjoy listening to jazz. For me its upbeat yet relaxing, edgy yet soothing.
What I really got into from here was Bossa. It started with Sitti Navarro. She was covering every popular pop and bossa song there is. I started looking for original versions of the songs she covers and I was blown away I love it. I love Sergio Mendes and Astrud Gilberto. Im starting to love everything Brazilian – models, music and even Capoeira.
And of course, an Eraserhead fan I was, I did not miss their Reunion Concert!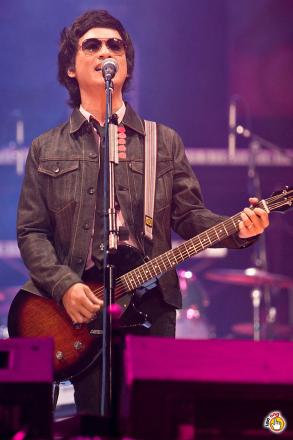 Special mention goes to some acts I continously listen to every now and then since I was a kid like Metallica, Parokya Ni Edgar and Wolfgang.