Normally, I don't go for this sh*t. Because I think its well, sh*t. But seeing as I have not posted anything here for a while (not cause I have nothing to write, but because what I want to write about is something really interesting to me so I want it to be a great post), I might as well give this a go.
I saw this from Helga, one of the most colorful people on the Internet. First, what is DOUBUTSU URANAI?
DOUBUTSU URANAI uses the date of birth, based on the Four Pillars of Destiny, that breaks down the human characteristics into 12 different kinds of animals.
Again, I think this things are sh*t but they are entertaining to the very least. Partly because sometimes you can see the generalizations and realize each answer applies to everybody. But I decided to put this on here because this time, the answers happen to be spot on!
Read:
Purple Sheep (how gay is that!?)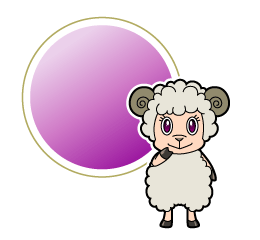 Purple Sheep wish relationships to be gentle.
You are modest and quiet, and will not oppose to other people's opinions.
Nevertheless, you have strong ego, and your personal security comes before anything else.
You are always cautious, and think highly of objectivity.
You do not act subjectively.
You tend to lack adventurous heart.
Because you don't move around much, you are diligent and have a lively imagination.
You have a very observant eye, and are quick on changes that occur in the society.
You have wide vision, and are a well-read person and well informed person.
You have high aspirations, and have rather huge dreams.
You would put in great effort to make your dreams come true.
You tend to be obstinate about the things you think are right.
This may unbalance your relationship with the others.
Have flexible heart, and you will get unexpected success.
You think highly of obligations and duty, but you also have good sense of humor.
If you be more concerned about cooperativeness, you can definitely be able to gain popularity.
You are a well-informed man, so use that advantage as a backroom boy, and you will achieve great success.
Only thing kind of contradicting was modest then big ego? Confusing for me. But thats just cause I'm stupid.
My favorite part is: you will get unexpected success. Thank you very much.

check yours